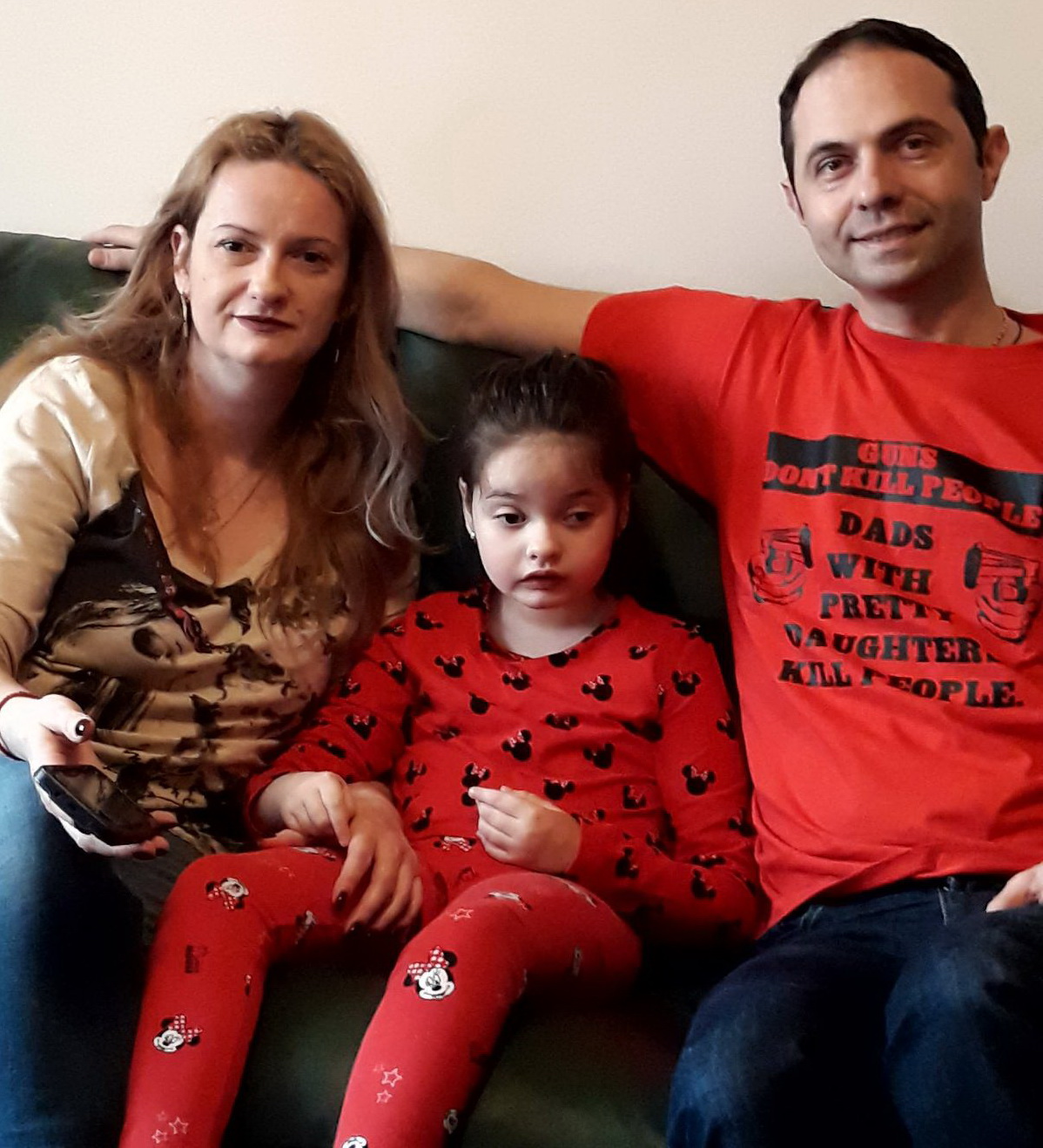 The ABR journey of Mateea, Alina and Bogdan
Hello,
we are Alina and Bogdan from Romania, the parents of Ioana Mateea, who is eight years old. We have been doing ABR therapy for five years.
When Mateea was six months she was diagnosed with CP, and from that moment on we started different therapies. She started to vomit every time during therapy sessions and also became very frightened of people. Unfortunately she made no remarkable progress.
The first assessment
In january 2013 we had the first ABR assessment and we were extremely impressed that it lasted three hours. During this assessment, Krista tried to explain to us Mateea's body and why she was not capable of certain motor functions.
For example she had no neck. There wasn't any segmentation between the head and the neck, neck/trunk/abdomen/pelvis/legs. Her body was weak, without volume and without a proper connection between the bones, fat, muscles and skin layers.
This was the moment when we really understood what CP means and which damages Mateea's body has inside. Only at that moment we realised why Mateea had made no progress. Although watching her body she didn't seem to be very affected.
A major factor in following ABR therapy was that the progress was guaranteed for everyone and the improvements will not be lost.
The first pictures
The confirmation that our decision was correct came after only six months, when we saw the first pictures of Mateea. The improvements were remarkable. For example, it was the first time that her pants didn't fit any more. It was obvious that the abdomen area developed due to ABR therapy.
As time passed, we could see many changes at every evaluation, even if our child had only one evaluation every six months.
Five years later
Now, after five years of ABR, we are still learning about the changes that are needed for a CP affected body to get natural motor function and not by compensation.
We are absolutely convinced that we are doing what is best for her at this time. It is true that ABR therapy involves many hours of work at home. But the changes you make for your child's body are amazing. In fact, it's your child's physical and mental health that you can improve with ABR. It is the only solution to repair what CP and time destroys inside our children's body.
We have understood very clearly that Mateea will need therapy for many, many years to come and we pray for Mr. Blyum's health so we can continue to help our children. Regarding the ABR team, we like to call them "angels" because they are very devoted, very involved in the problems of ABR families, very patient and most of all THEY DO CARE.