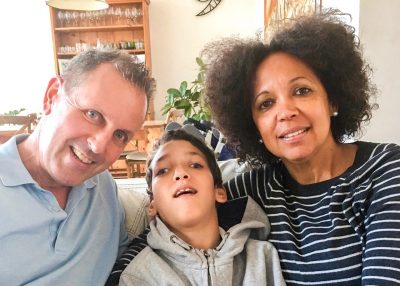 We want to share our wonderful story with you!
My name is Charo, I live in Italy and I want to share our wonderful story with you.
A wonderful story, but it didn't start very well 16 years ago. Our son Diego was born with many problems: thachicardy, aneurisma and distonic tethraplegy. Initially, this was a bit shocking. As parents we didn't exactly know what to do, so we started working with all possible therapies that were available. We worked really hard from the beginning, 2 hours of intense training a day plus various visits to all kinds of specialists.
ABR
When Diego was nearly 4 years old, we had this strange feeling that despite the efforts, there was no real improvement. Even worse, we didn't see how this could ever change. Then we were extremely lucky to find out about ABR. Leonid Blyum told us many things we were never told before, it was an eye-opener to say the least. That's why we trusted ABR and started working. Knowing we were already working hard for 4 years, many hours a day without any results, we were wondering: would we finally see changes in Diego's respiration?
It worked!
And that's exactly what happened. After only 3 months of doing ABR, his respiration improved and the volume in his thorax changed visibly! For us, this was a confirmation of the validity of the therapy. We started to get to know Diego better than ever, because he started to open up. From this moment on, the mood in the whole family changed. Diego was improving, incredible!
Many years have passed but ABR stays our base and it still impresses me, just like in the beginning. There's always something new that I discover. The improvements Diego has made are similar to the improvements other parents describe. And the most important thing is that instead of the previous descending path, he's going the opposite way. The less physical dysfunctions, the more I can see his involvement and participation in our family life. His alertness became impressive and he enjoys his life.
That's why I call it a wonderful story. Diego is our teacher now, we work and he responds. He is doing very well and the results give him the opportunity to interact more and more with the surrounding world.
I'm very, very thankful to ABR and to the whole team for what they are doing!
Diego's progress after 4 years: